Welcome ~ Bienvenue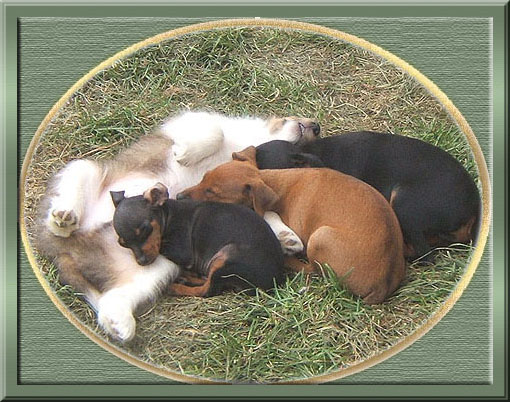 We are a small, home-based kennel, located in Mirabel, Quebec, which is 1/2 hour north of Montreal.
Our Shetland Sheepdogs & Miniature Pinschers are house dogs, full family members, first & foremost.
We are members of the Canadian Kennel Club but are no longer active in the conformation ring due to time constraints. We have titled 6 Canadian champions to date, in both of our breeds .
We breed Sheltie puppies in most of the colors : Tricolor, Sable & White, & Blue Merle.
We hope that you enjoy your visit and if you have any questions regarding our dogs, available puppies or upcoming litters, please feel free to contact us, either by email or by phone .
We do not ship.

Please read this before buying a puppy.




Nous sommes une petite élevage familial, situ

é à

Mirabel,

Québec

.
Nos Bergers Shetland & Pinschers Nains vivent tous dans notre maison et sont des membres de notre famille.
Nous sommes membres du Club Canin Canadien mais ne sont plus actif dans les expositions de conformation - manque de temps . Nous sommes heureux d'avoir réussit 6 CHAMPIONS Canadien jusqu'a maintenant.
Nous avons les Shetlands dans les couleurs : Sable & Blanc, Tricolore, Bleu Merle et Sable Merle.
Il nous fera un plaisir de répondre à vos questions concernant nos chiens , chiots disponible ou nos portées à venir, par téléphone ou par courriel.

S.V.P Lire ceci avant d'acheter un chiot.
Inga Paquin
Mirabel, Quebec